UNITED HOSPITAL PROVIDING TELEMEDICINE SERVICE FOR PATIENTS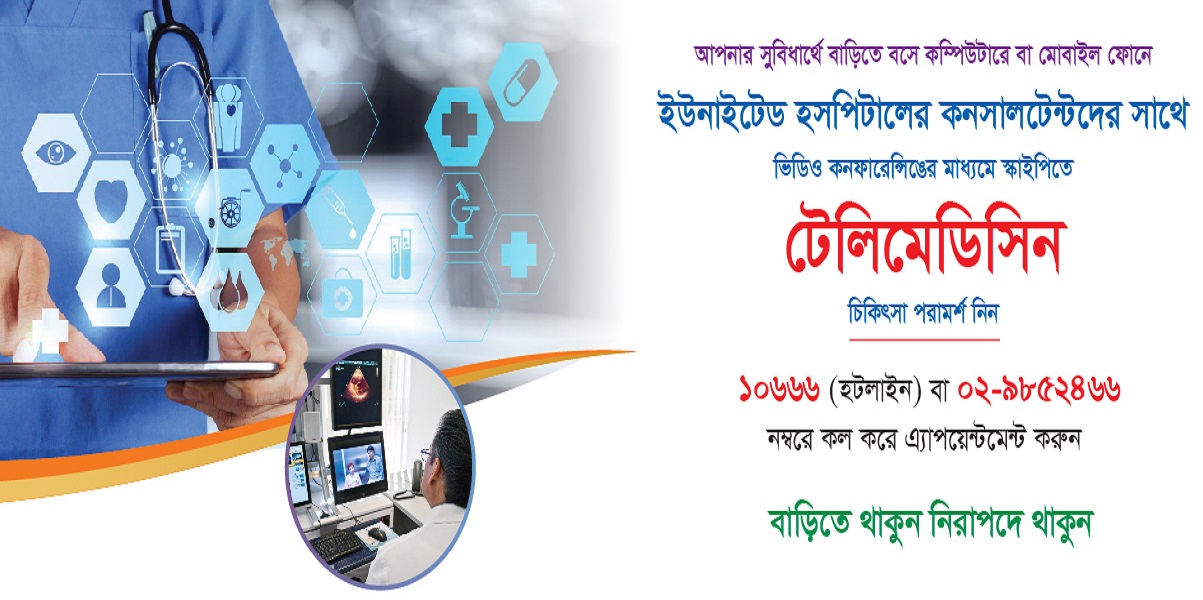 Amidst COVID19 crisis, patients are not being able to reach hospital for the social distancing & less exposure attempts which are underway across the country to curb the spread of the disease, for everyone's safety. Through United Hospital Telemedicine those who have an urgent medical issue to address or those who need routine follow-up treatment advice, can avail video consultation by connecting to United Hospital renowned Consultants through Skype from the comfort & convenience of their home. Prior appointment needs to be taken by calling Hotline 10666 or 02-9852466 for Telemedicine to book slots of Consultants of chosen clinical specialty and after that patients can connect to Consultants via Skype from computer or mobile phone from his/her home. Patients can take pictures and share their previous documents of investigations or reports with the Consultant via Skype or email prior to the Telemedicine session.
Consultants of Internal Medicine, Cardiology, Nephrology, General & Laparoscopic Surgery, Paediatrics & Neonatology, Obs & Gyane, ENT, Respiratory Medicine, Orthopedics, Endocrinology, Neuroscience, Oncology and Ophthalmology will be available to provide Telemedicine support. Continuity of care for these patients will be carried forward through successive Telemedicine or when the patient will be able to visit the hospital next.
At present United Hospital operates Telemedicine service for patients of Chattogram and Sylhet through local Information Centres