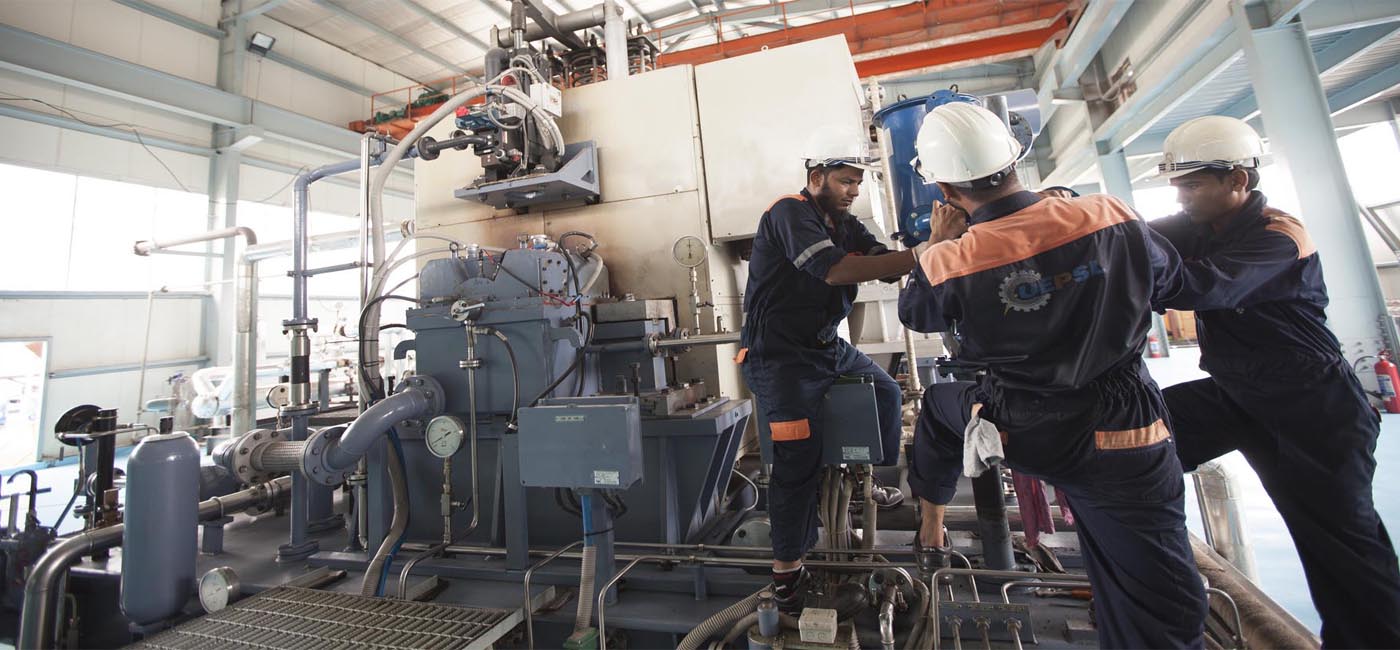 United Engineering & Power Services Ltd. (UEPSL) is the Largest Local Power Plant Operation and Maintenance company in Bangladesh and is a subsidiary of United Group. It provides a one-stop operation & maintenance solution for power project developers, especially for Independent Power Producers (IPP), where availability is crucial for the profitability & sustainability of the business.
With a manpower strength of more than 800 Engineers, UEPSL has the widest range of experience on reciprocating engine operation & maintenance in Bangladesh and is presently operating and maintaining 9 Power Plants with a combined capacity of 1,196 MW with 56 MW of heat recovery systems. In addition, Technical Support including laboratory, testing and treatment services are being provided to three more power plants of capacity 287 MW and other subsidiaries of United Group. Together with operation and maintenance, UEPSL also provides procurement and supply chain management services to provide maximum reliability to its clients.
The company was established on 29th August 2011 with the primary goal of facilitating the maintenance of generators/engines of various power plants under United Group. A fully equipped and functional maintenance workshop has been constructed at Sarkar Market, Norosinghopur, Ashulia, Savar, located beside the Ashulia-EPZ Highway, with top-quality logistic supports along with multiple other workshops all across Bangladesh.
Highlights
Provides best-in-class service & maintenance services and ancillary facilities for reciprocating engine and / or cogeneration-based power plants
Plant Average Availability achieved: 90% plus
Fully equipped and functional maintenance workshop at multiple locations across the country
Personnel Strength: 800 plus Engineers
Offers a broad range of maintenance services (including critical services like Cylinder Liner Honing, Cleaning, etc.)
Successfully completed major maintenance procedures of Wärtsilä 20V34SG Engines, Rolls Royce B35:40V20AG2 engines, Wartsila W20V32E, MWM TCG2032V16 engines and regular maintenance of Steam Turbines with capacity ranging from 6.5 to 16.1 MW
Successfully operated 100,000 hrs on Wartsila and 50,000 hrs on Bergen Engines
Experience of operating and procuring equipment and spare parts from major OEMs like ABB, Napier, AVK, Atlas Copco, KSB, Siemens, Triveni, Alfa-Laval, Aalborg, Westfalia, AAF, etc.
End to End value-added solutions including procurement and supply chain management
ISO 9001:2015, ISO 14001:2015 and ISO 18001:2007 Certification
Client List
Plant
Capacity
Generating Set
United Power Generation & Distribution Company Limited

Dhaka Export Processing Zone, Chattogram Export Processing Zone
158 MW
9 X Wärtsilä 20V34SG + 8 X Bergen B35:40V20AG2
United Energy Limited

Ashuganj, Brahmanbaria


53 MW
14 X MTU Germany AOE20V4000L62
United Ashuganj Energy Limited

Ashuganj, Brahmanbaria
195 MW
20 X Wartsila W20V34SG + 16.1 MW Triveni turbine
United Energy Limited

Kumargaon, Sylhet
28 MW
3 X Bergen B35:40V20AG2
United Mymensingh Power Limited

Jamalpur Sadar
200 MW
21 X Wärtsilä W20V32 + 2 X Triveni 6.5 MW turbines
United Jamalpur Power Limited

Jamalpur Sadar
115 MW
12 X Wärtsilä W20V32 + 1 X Triveni 7.5 MW turbine
United Anwara Power Limited

Anwara, Chattogram
300 MW
17 X Wärtsilä W18V46 + 3 X Triveni 8 MW
United Payra Power Limited

Kholishakhali, Patuakhali
150 MW
8 X Wärtsilä W18V50 + 1 X Wärtsilä W20V32

Leviathan Global BD Limited

Karnaphuli Export Processing Zone
45 MW
5 X Wärtsilä 20V34SG
Clientele: United Group, Private Clients
Future Plans
UEPSL plans to increase the strength of its service team, broaden its service scope and develop & modernize its workshop facilities to attract international clients. Along with serving United Group, UEPSL wishes to extend its private clientele and continue being one the most reputed O&M service and power solution provider companies in Bangladesh.
Service Experience
Total investment in service support & O&M