OSL provides an integrated business processor that runs the entire business in real-time from a centralized system by using the latest technology. 
OSL is focused on developing powerful and cutting-edge business applications, that allow us to provide solutions that real business benefits. By offering end-to-end solutions for organizations of all domains and sizes with functionality, analysis, data security, and integrability. Holistically they cover ERP Solutions, Business Process Automation, Web & Smart apps, Business Intelligence, IoT, AI, IT infrastructure development, Process Automation, network Setup, internet Connectivity, network security, server management, on-demand IT support, etc.
Orange Solutions Ltd. is an ISO 9001:2015 Certified Organization. 

We are a member of BASIS, and also NBR Approved vat Software enlisted Company.

Worldwide we have 200+ Happy Clients.

OSL Has 100+ certified IT professionals at present.

We have developed advanced technology software for our clients.

OSL understands customer needs, so we make different category software for the organizations.

We have 20 years of domain knowledge developed through business automation using our own secured, robust, and scalable framework.

We have a skilled management team in terms of expertise and knowledge.
Services
ERP SOLUTION
NBR APPROVED VAT SOLUTION
WEBSITE DEVELOPMENT
ISP – CENTRAL ZONE
IT INFRASTRUCTURE
ZAB ERP: 
ZAB ERP the leading cloud base ERP software to meet your every business needs. We know every business are different so OSL Develop ZAB ERP That specially designed for met all organization requirements. It has built in 100+ organization policies so you don't worry about policy. ZAB ERP has also multi modules for manage different Industry, it covered Group of Company, Real Estate, Hospitals, Supermarket Retails, Pharmaceuticals, Energy & Power, Textile & Garments, Share & Brokerage, Hotel Hospitality & Restaurants, General Manufacturing, FMCG Industry etc. Industries.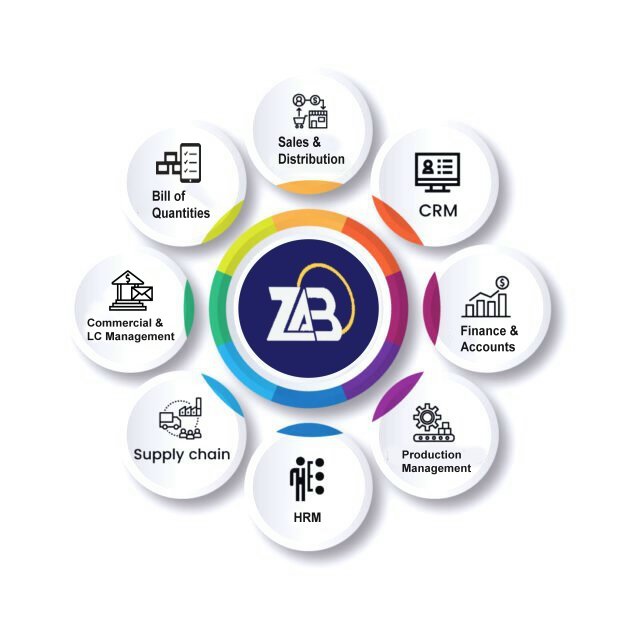 OSL – Number One ERP Solution in Bangladesh
OSL integrates all business management functions, including hospital management, planning, inventory/materials management, distribution, order management, manufacturing, purchasing, accounting and finance, human resources, and more.
Industries We Served
FMCG TRADING & MANUFACTURING